our story

How we do it ?
High quality leather leggings should be as versatile and accessible as your favorite pair of jeans. That is why we set ourselves on a mission to democratize them for you.
Ethically Sourced
Being socially responsible is in our DNA and we want to assure our partners follow the same standards as us. All of our partners work in compliance with fair, ethical, environmental and social norms. Our leather comes from a family-run French tannery and is a by-product of the food industry. Learn more about OUR LEATHERS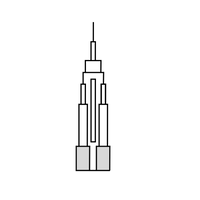 Local Production
We work with the finest manufacturers and pattern maker who supply the most distinguished American designer brands in the heart of New York's historical Garment District. After a long journey travelling in search of the perfect factory we realized how important it was for us to favor our local economy and promote ethical and secure working conditions, so we made it happen at all costs. When French flair meets New York wear


Though born and raised in Paris, Isabelle and Noemie met after they had moved to New York City, Noemie in 2013 and Isabelle in 2015. They were brought together by their passion for clothing, freedom of expression, and their mutual desire to disrupt the luxury industry as we know it Noemie and Isabelle had built careers working for high end fashion brands in Paris and in New York but felt disgruntled by the way luxury brands took advantage of their customers.

Their experiences created a shift in how they viewed and consumed fashion, and that shift became a need to establish a brand that would reflect their way of thinking and living: bold, carefree, and—most importantly—ethical.

Wanting to break with the traditions of conventional fashion and tired of overpaying for quality goods, they strived to create a brand that would break free from those levers and genuinely speak to its customers to give them the confidence to express themselves freely.

Conveniently, Isabelle and Noemie were both leather enthusiasts. Noemie's main focus was on leather accessories and, over the years, fell in love with the craftsmanship of leather. Isabelle, on the other hand, spent years searching for the perfect leather legging.
For both of them, leatherwear had this amazing quality of empowering you and making you feel bold, strong, and confident—


they wanted to share that feeling with other women while also providing an ethical option to those who seek to make better choices.


When they arrived in New York City they were positively stricken by the way women valued comfort over style (something they were not used to seeing in Paris) and had this wonderful way of being liberated in their attire.
This was inspirational and resonated with them: luxury does not have to be stiff, imprisoning, or reserved to an elite—it can be easy, liberating, and open to all.


They set themselves to change the rules of luxury wear and create a shift in the way women think and wear luxury.


They joined forces and left the comfort of working for big corporate companies to create the perfect leather legging: comfortable, flattering, practical, high-end yet affordable. They set themselves on a mission to democratize leather leggings with the conviction that high quality leather leggings should be versatile and accessible to all.