the wash guide
Our leather is noble and delicate.
Carefully follow our instructions and always handle with care so you can keep your OT legging for life!

CAUTION
While your OT legging can be machine washed, we highly recommend that this be done sparingly.
BE AWARE that machine washing will ALTER THE ASPECT and FEEL of your leggings.
We recommend the following steps:
1  
AIR DRY hung up overnight
2  
SPOT CLEAN following care instructions
3 
If needed, MACHINE WASH or professionally dry clean.
OFFTRACK is not responsible for deterioration due to excessive machine washing.
before spinning...
when is laundry time ?
Unlike your everyday clothing, your OT legging should NOT be washed after every use.
Before throwing your legging in the machine, try letting it breathe overnight.
Air can naturally pass through leather, leaving moisture to evaporate naturally, and unlike other materials that require frequent cleaning you don't need to wash your OT legging after every use.
Machine wash is a plus – you'll know when you have to wash it. Don't be systematic about it. On average, if you wear your OT legging once every week we recommend you machine wash it every 3-4 months.
wash smart
Your OT legging is machine washable and cannot be hand-washed. If you are not comfortable washing it yourself you can either contact us with your questions or place it in the care of a leather specialist.
Our leggings are machine washable for hygiene purposes only. In no way are they stain proof. If a stain occurs you can contact us first and we will guide you through the best steps to take.
Note:
In time and with washes your OT legging will gain a patina. On bright colors, after the first wash, color fading may occur. This is less visible on very light or very dark colors. If you do not wish to alter the color or the shine of your OT legging in any way your best option will be to confide the care to a leather specialist.
select the right cycle
We recommend to run a short cycle on empty to remove deposits.


do not turn it inside out

detergent should only go in the detergent drawer.
never pour the detergent directly on the pant, it might cause discolaration/bleeching.

do not fold it

always wash separely


after...
You may be surprised by the distressed and stiff aspect of your OT leggings after its first machine wash. Rest assured, this is normal. Your OT leggings will regain its shape, suppleness and shine as you wear them back in.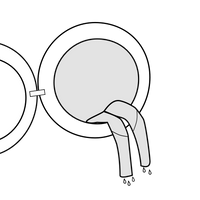 do not let it soak
Remove your OT Legging right away from the washing machine as soon as the cycle is over.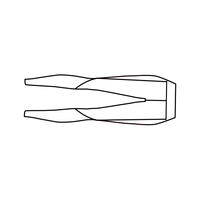 lay it flat to dry
Leave to dry for 24h to 48h on a dark towel to avoid color transfer. Keep away from direct sunlight.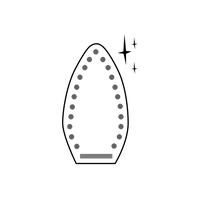 gently rub or iron to release the shine
Once dry, first gently rub the leather between your hands to improve the pants suppleness. Then to bring back shine turn inside out (back canvas side) and medium iron.
Carefully iron following our guidelines below for nappa or suede.
with nappa:
Using the lowest steam setting (cool iron), you can iron the front of your OT legging to restore shine.
with suede:
Using the lowest heat setting, only iron the back of your OT legging. It will accelerate the softness restoration process.



maybe it's science, maybe it's magic



After washing your OT legging, its shape and softness will resume as you wear them in again. Like your favorite jean, they will break in and mold to your body figure the more you move in them.

Have a doubt or request ? Don't wait, contact us.